March 28, 2017
CRM Solutions (DBA Mclaurin Aerospace) was recently recognized at the induction ceremony celebrating the kickoff of a formal Mentor-Protege agreement between CRM Solutions, a woman-owned, HUBZone-certified small business, and Jacobs Technology, a NASA prime contractor.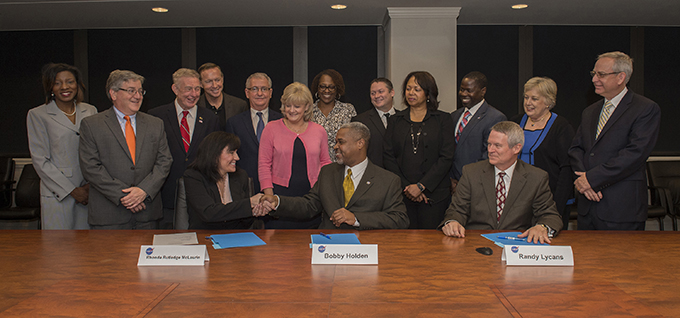 "This is the 15th mentor-protégé agreement signing we've hosted at Marshall, and the fourth between a prime contractor and a HUBZone-certified small business," said David Brock, Marshall small business specialist. "We're proud this agreement is between two Huntsville-area firms."
The mentor-protégé program was reinstated in 2008 by NASA's Office of Small Business Programs to pair large companies with eligible small businesses and educational institutions to establish long-term relationships and enhance their capabilities, ensuring the availability of vital products and services for NASA, other agencies and industry. There are currently 40 mentor-protégé agreements across NASA's 10 centers. With 15 current agreements, Marshall manages more than any other center.