Mclaurin Aerospace is proud to provide advanced engineering support and cutting-edge research for efforts critical to national space and defense capability.  Our most important asset is our people.  The Engineering Spotlight series highlights individual technical staff for their contributions to our customers' missions and explores the personal stories that make our team diverse, connected, and engaged.
Mclaurin Aerospace actively engages in academic collaboration to help inspire the next generation of engineers.  Mclaurin's robust student intern program, unusual in the small business domain, is an example of its emphasis on identifying and growing exceptional talent through direct engagement with universities.
One former intern turned current employee is Skylar Jordan, who is now a mechanical design engineer with Mclaurin and is a proud alumnus of the University of Tennessee.
The story of Jordan's discovery of Mclaurin is a bit untraditional, and it all started several years ago at a local coffee shop.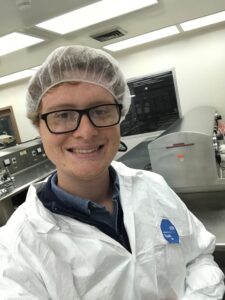 "I was working on homework with a friend at a coffee shop in Knoxville when a guy across the table noticed the NASA stickers on our laptops and sparked up a conversation with us. Turns out he was Jeb Orr, part of the Mclaurin leadership team. He mentioned his company may be opening an office in Knoxville and we exchanged information," Jordan said.
"Six months later, I got an email asking if I wanted to discuss Mclaurin's future in Knoxville. From this, I ended up becoming the company's first Knoxville intern. After about a year of intern work in Knoxville, the company encouraged me to apply for a full-time position at Mclaurin supporting the Jacobs ESSCA contract at NASA Marshall Space Flight Center."
Regarding Mclaurin's internship program, Jordan highlighted the fact that it is quite unique, mentioning that it is "disproportionately large when compared to the actual number of full-time staff," and that Mclaurin genuinely cares for its up-and-coming engineers.
"Company leadership goes far out of their way to ensure that we are getting new and exciting projects for interns to be involved in," Jordan said.
He also noted that the quality of a Mclaurin internship is top tier, where students are given "very challenging problems to solve" as well as "the mentorship and resources to tackle them."
Now, as a full-time employee, his engineering work mainly involves designing and modeling components for various space flight projects, determining the overall geometry of parts, and determining how they will be manufactured.
"Thinking about temperature environments, loads, material interactions, and assembly and manufacturing processes all falls under my umbrella.  Working as a specialty support contractor has me integrated directly with our NASA customer. I have an office at the Marshall Space Flight Center and I work directly with other contractors and NASA employees every day. Additionally, I get to help with other customers' critical-path analysis tasks that come my way," Jordan said.
Jordan emphasized how minor design updates for the International Space Station's Environmental Control and Life Support System (ECLSS) prepared him for learning NASA's design process, along with gaining experience working on prototype flight software.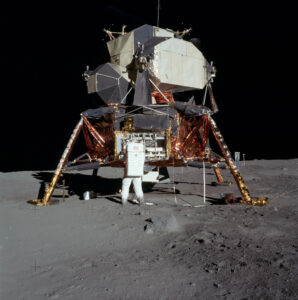 "I have been heavily involved in NASA's Artemis program to land the first woman and next man on the moon by 2024. I am supporting a structural design group for NASA's Human Landing System (HLS) initiative, helping develop a next-generation lunar lander. I am designing structural components that are integral to the operation and success of the vehicle," Jordan said.
His sights are set on the stars – and Mars.
"… This work is helping to kickstart the private industry's ability to transport people to and from the lunar surface. The hope is to share NASA's experience and resources with these companies to yield successful vehicle designs that companies can use to increase humanity's presence on the moon. This will lead to necessary technological and infrastructure development that will aid the ultimate NASA mission to land humans on Mars."
For his future work, Jordan is especially passionate about his being involved with a program where his designs may find a permanent home on the moon.
"I grew up a massive fan of the Apollo program. Getting the chance to build on the legacy of those engineers is something I am very passionate about."
By: Sarah Rainey, Mclaurin Aerospace